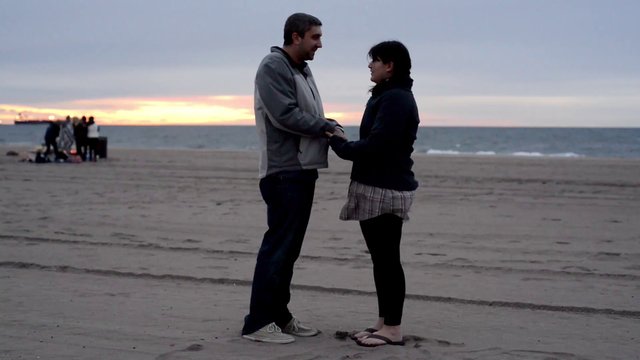 The Proposal: Lights, Camera, Audio, Ring, Knee, Action … Lights?
Jeff: It's no secret that I like to document everything. My philosophy is that we're only on this Earth once and every minute that goes by is a minute you'll never get back so you should not only make the most of it, but document all the fun you had along the way.
It had been a while since I had surprised Jennie. The last big surprise being Beijing in 2008. We had been dating for about six years, and the stares from friends and family were growing long…obviously it was time to pull of the biggest surprise of all (and let's be honest, Jennie may have been hinting that she was ready to be proposed to, alright.) The whole plan actually came together in a matter of about a month. Much shorter than my other surprises, and the hardest to pull of without telling a soul.
I'll be honest, I was pretty wrapped up in the documentation process at the beginning and almost forgot the research needed to find the ring! Needless to say I managed to find the right diamond and the perfect setting. I spent many hours researching cut, clarity, weight, setting etc. I was completely on my own since I didn't tell anyone, so it was scary, heart skipping, and a big investment to figure out without anyone to bounce ideas off of!
My plan was to do it during a bonfire at the beach; I was sure there would at least be some kind of sunset, Mary would be there to take pictures, and all our friends would get to see it and be there to share the experience. Our friends cooperated, Mary got the shot, the ring was perfect, Jennie said yes, but unfortunately the sun didn't really cooperate (Jennie interferes here, I thought the sunset was perfect.)
My phone call to my Mom at 11:00 pm her time, "Hi Mom, so she said yes…" Mom: "Who said yes?" Jeff: "She said yes, … Jennie!"
Jennie: It was perfect. If I had known I would have worn something different. My dad posted in on FB before I could call all of my family and friends, and I was under planes screaming into the phone at Corelyn, "This is not a joke….Jeff just proposed!" It was everything. The pictures from that night are my favorite because you can just see how excited we both are!